Paul started playing drums in a school band called 'Small Fry', aged 12, and had his first gig in the school hall. 'Small Fry' recorded a small demo tape in 1982, entitled 'Tapioca Pudding Rescue Service'.

Paul played in various local (London/Surrey) bands, and in 1992 joined the band 'Freakin Habit Forms', along with bass player, Ali Friend ('Red Snapper'), keyboard player Nick Strasburg ('The Aloof') and Kevin (Calligula) Purée.

In 1993 Paul joined 'The Big Cheese All-stars ' with Charlie Tate. This was a 12 piece funk band that toured through out Europe, and in the 4 years Paul played with the band they supported bands such as: 'Don Blackman', 'Roy Ayers', 'Gil Scott Heron', 'Maceo Parker' and 'James Brown'.
The band had many releases on Big Cheese Records (not that Paul saw any money from it !)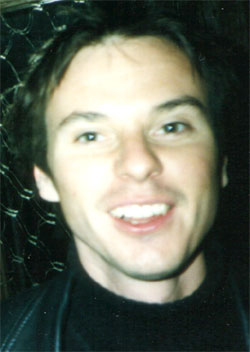 Around this time Paul also played locally (London /Surrey) with the band 'The Lionel Moist Sextet', (Big Cheese Records).
In 1995 Paul also joined the band 'S*M*A*S*H' for a short period, before the band finally dissolved. Paul recorded a single with 'Smash', but it was sadly never released.
While with the band they toured Europe and played the 'Shelter' gig at the Forum with 'Elastica', 'Gene' and 'Boo Radleys'.
Then in 1996 Paul joined 'Senser' and toured Europe extensively with them for 4 years (alongside 'Prodigy', 'Bjork', 'Slayer', 'Nick Cave' and 'Ice T' to name a few, playing gigs of up to 25,000 people!). Senser released an album entitled 'Asylum' which was produced by 'Arthur Baker', recorded/mixed in London and New York,(reprogramming by 'Boom Devil').
Paul also instigated an offshoot of 'Senser' called 'Desenser' with 'Nick Michaelson' doing a more dance-oriented thang! and released a single entitled 'Om'.
Also around this time Paul joined a band called Morgan's Baby, gigging live around London.
In 1998 Paul joined the 'Boom Devil' live band, touring the London and Surrey area. His drumming features on the 'Boom Devil' album entitled 'Rumble'.
Also around this time Paul started the band 'Geko' with sydlox, doing a more hardstep, drum and bass sound, and recording the classic tune 'Arse' (with Paul on 'combine harvester' vocals), under the name 'Silage Massive Posse'.
Paul is presently working out a live set with the band 'Crisp' (featured on this site), with sydlox and Christine Leach, and they hope to be gigging in your area soon !
Many, many times watching the bands above, I have seen the onlookers go from, watching the lead singer or sax/guitar player, to being mesmerized by Pauly's drumming.
In my opinion (sydlox), Paul is the best drummer in the world!
Paul now lives a more idyllic life style building driftwood furniture (he now suffers from a severe wood fetish!) in an old barn (with drum room above) on his farm, with his beautiful girlfriend Su, cats and Elvi the dog, in Lewis, Sussex.
Big up the farmyard massive ! Mooooooooooooooo !
paul@secondseed.com